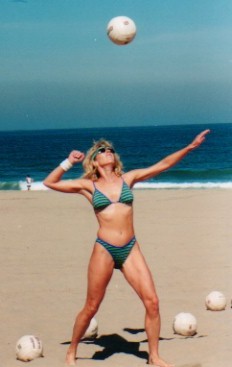 Background Information (as of January 2009)
MJ (Mary Jane) Smith is a former pro indoor/beach volleyball player.
She is in the Cal State University Northridge (CSUN) Athletic Hall of Fame.
MJ has been teaching and/or coaching volleyball since 1976 at elementary, JR. high, HS, JR College, Division III, Division I, and club volleyball programs.
She is currently teaching at California State University, Northridge and L.A. Valley College.
Achievements: USA Volleyball Hall of Fame. She is the oldest woman to hold a AAA beach rating and has been rated since 1980; five coed National Championships ('85, '89, '90, '92, '94) eight coed All-American honors; Coed Player of the Year 1990; six masters women's National Championships ('91, '99, '00, '02, '06); 12 masters women's All-American honors; four Masters Women's MVP honors ('91, '99, '03, '06); three years in IVA (Pro Co-ed International Volleyball Association); All-Star Team - 1979; member of the 2002 USA Volleyball Beach Team; 2005-2008 Gold medal So.CA. Senior Olympics; 2006 Geezer Jock of the Year; 2007 Bronze medalist at Senior Global Cup.

In addition, MJ has been a model for Roof Sportswear and Joe Garcia's Walleyball book. She has been interviewed in L.A. Times, El Vaquero, L.A. Life magazine, and Channel 7 News. She was in Volleyball Magazine's "Wonder Women of IVA".