Trip to Dominican Republic (January 2006)
Hotel and Restaurants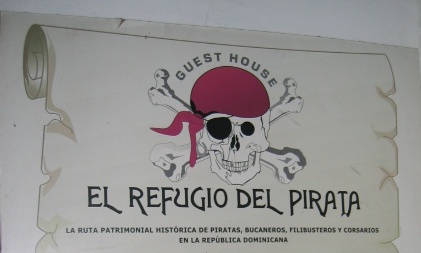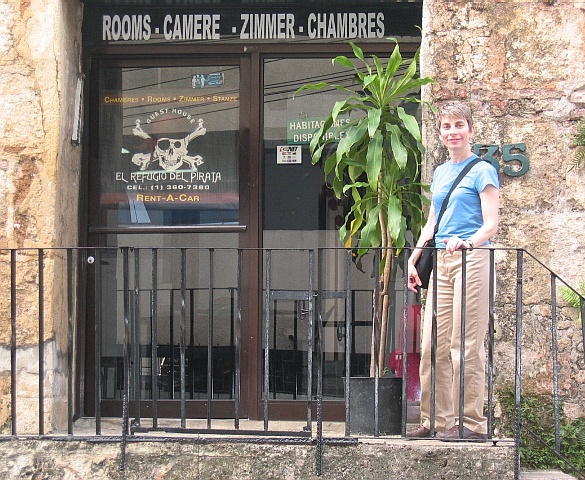 We stayed at "Hotel El Refugio Del Pirata" in Zona Colonial, which apparently was a refuge for pirates in days gone past.
If you stay in Santo Domingo, I recommend staying in Zona Colonial. That is where you will probably want to spend most of your time, and it is invaluable being able to walk out of your hotel and go eat or see nearby sights.
Nearby the hotel is Dulceria Cecilia (phone 809961-3741), a great place to buy sweets and rum. We bought some fantastic stuff at good prices. We found that the stores specializing in rum and liquor were typically geared towards tourists, and prices higher. You are better off going to the grocery store, or other local store.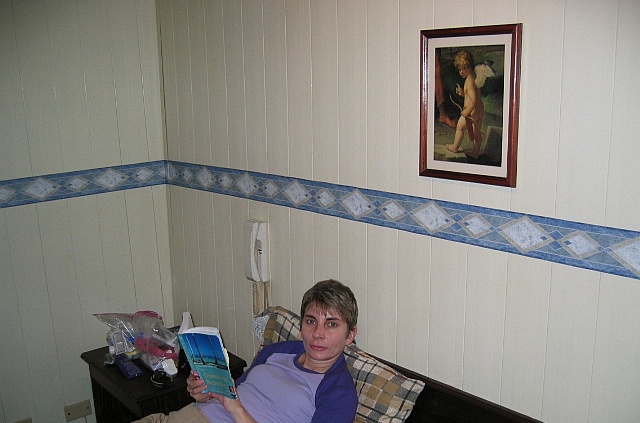 Lucinda in the hotel room reading the Rough Guide.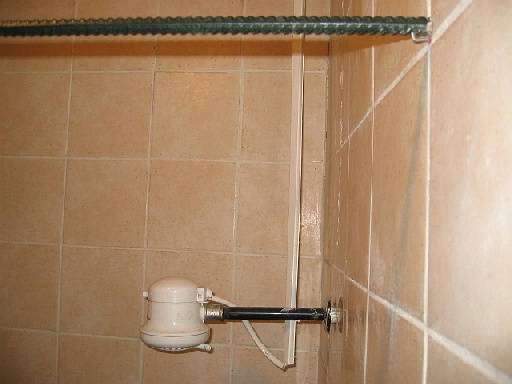 Here are pictures of the shower in our hotel room.
There was no hot water, except for a heating element on the shower head.
The straight plastic conduit which used to hold the wiring to the side of the shower (right) had become unglued.
Note the use of the re-bar for the shower rod (at the top of the picture).
There was a small hole drilled in each end of the re-bar which was placed on top of the L-screw.
The towel rod (not shown) was also fashioned from re-bar.
All of this illustrates the high cost and lack of manufactured goods, as well as the resourcefulness in using 'junk' in place of those items. We saw this all around the country, typically in the type of materials that were used to assemble the shacks/homes many people lived in, outside of the cities.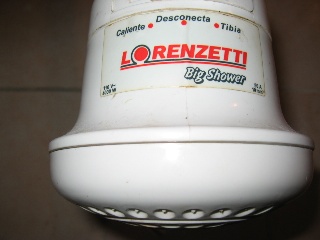 The three settings were: "Caliente" (Hot), "Desconecta" (Off), and "Tibia" (Tepid).
We found that "Caliente" was more like 'a little warm'.
Our favorite cable channel in the room was HTV.
Here is a picture of Daddy Yankee singing "Rompe", which was #2 in that day's countdown.
I always like to watch music television when I'm in a foreign country. I usually buy some CD's based on the music I see. For this trip, my favorites were
"Como Si Nunca Nos Hubieramos Amado" by Laura Pausini (an Italian singing a Spanish-language album), from the album Escucha. This is truly an incredible album, whether you speak Spanish, Italian, or English.
"Acompañame a Estar Solo" by Ricardo Arjona, from the album Adentro.
"Estoy Perdido" by Luis Fonsi, from the album Paso a Paso.
Other Favorites:
Rakata - Wisin Y Yandel, from Mas Flow, Vol. 2
Rompe - Daddy Yankee, from Barrio Fino en Directo
Noviembre Sin Ti - Reik, from Reik
No (from Fijación Oral, Vol. 1), and Don't Bother (from Oral Fixation, Vol. 2) - Shakira
El Profe - Miranda!, from Sin Restricciones
Ella y Yo - Aventura y Don Omar, from God's Project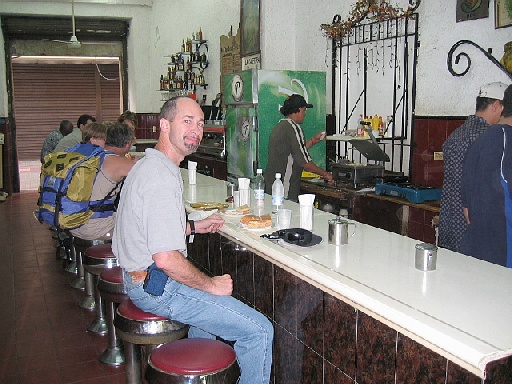 Here is a picture of Craig in La Cafetera where we ate breakfast several mornings. They are preparing food on the right.
Our favorite juice was grenadia (pomegranate).
(Click for another view of fresh fruit in the food preparation area.)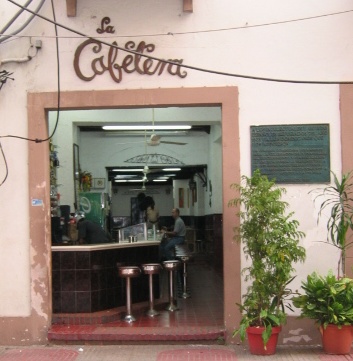 Here is a picture of the outside of La Cafetera, a hangout for local painters and musicians.
The plaque to the right of the door (click for a close-up picture of the plaque) tells about how the diner was used as a refuge and gathering spot for intellectuals around 1939.
It was at this cafeteria that we encountered a scam artist. (We had previously been told not to give money to anyone on the street, regardless of their story.) On our last morning, a guy was at the entrance to La Cafetera, yelling, "Does anyone here speak English?" He proceeded to tell us (child in arms; his wife was apparently somewhere else) how he was visiting from New York and had been mugged the previous night, after receiving some money from Western Union. He said he was trying to get to the airport to catch his flight back home (he showed us some documentation of this), but had no money. He told us that he thought that he could take a bus to the airport, but since he claimed to speak no Spanish, he couldn't get any information about the bus. In the end, we told that we were going back to the airport that morning and offered to share our taxi for free.
In retrospect: (a) I remember now that there are no buses to the airport (only taxis), so I'm sure he knew this and hoped we also knew it and would offer him the RD$750 taxi fare (around $22), instead of just a few dollars for a bus. (b) Even though he 'spoke no Spanish', he had no trouble quickly ordering a cup of coffee from La Cafetera (and presumably paying for it). (c) For some reason, even though his 'wife' was somewhere else, why was he dragging around his child rather than leaving the kid with the wife?
In the end, he was a no-show for our offer of a free taxi ride to the airport.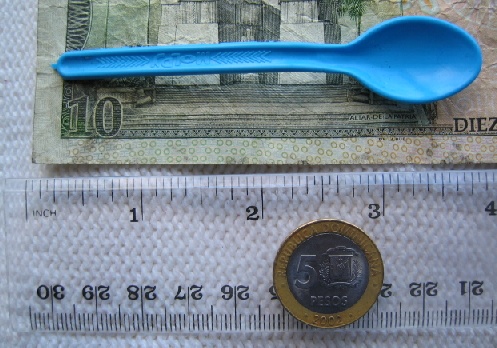 What is different in the Dominican Republic compared to the United States? One of the small things is that when you buy an ice cream, the 'tasting spoon' *is* the spoon. (Note the interesting brand name of 'Moldy' on the spoon.) Also pictured is a 5 peso coin, and a 10 peso bill.
Other things that are different include:
Napkins seemed to be in short supply or a bit expensive, and you are usually given a few with your food, rather than having napkin holders at the table.
You can't buy newspapers at the grocery store. The grocery store that we visited had no idea where we could get a newspaper.
Medicine was available on a per-pill or similar basis. I bought ten Halls cough drops for 10 pesos (about 35 cents) total. They had clearly come from a package that was opened and the contents sold individually.
On the flight back, I had a pair of medium pliers and a small screwdriver confiscated by airport security. I gently protested, explaining that it had been widely announced that restrictions on these type of tools (e.g. not knives) had been lifted. They explained that the rules were determined by the country of departure, and that these items were still prohibited on planes from the Dominican Republic.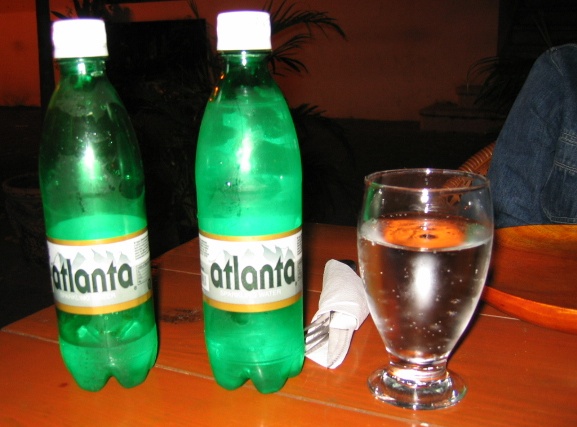 At one restaurant, we were served "Atlanta" brand sparkling water.
The water was actually bottled by Embodom in Santo Domingo (not Atlanta, GA).
This restaurant was located under an art college.
We preferred the nearby El Rincon del Zona (formerly Cubania).
This web page brought to you courtesy of
5k10k.com
web site development. Updated 03/12/2012