Craig's Trip to Guadalajara (July 2003)
"Yes, in Mexico; and no, not on the beach"

Guadalajara is the second largest city in Mexico (behind Mexico City), and capital of the state of Jalisco.
It is more than a half-day trip to the nearest beach town (Puerto Vallarta, on the west coast ).
It is a great place to visit to see the 'real Mexico'.
I was there for seven days (July 9-16), three of which I went on tours with Panoramex:
(1) City of Guadalajara & Tlaquepaque, (2) Tequila, and (3) Laguna de Chapala
The other days, I walked around, or took taxis to other interesting places.
As for the climate, you expect Mexico to be very hot, yes?
Not Guadalajara. It is cooler (and less humid) than Atlanta in the summer,
and warmer in the winter, never seeing snow.
This temperate climate is due to it being about a mile high (think of Denver, moved far south).

Pictures: Page 1 Page 2 Page 3 Page 4 (murals) Page 5 Page 6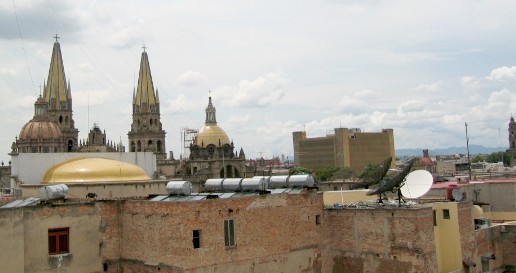 View from the top of my hotel, the Hotel (Calinda) Roma.
Contact info: Avenida Juarez 170; phone 614-86-50; about $53/night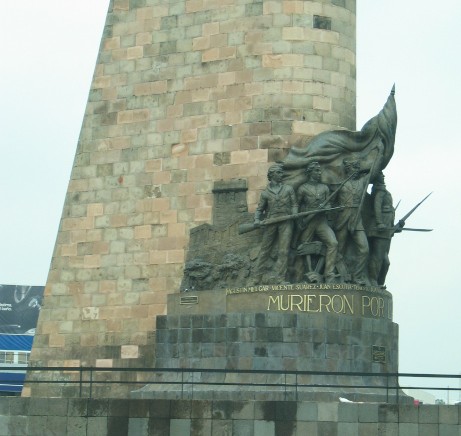 "Hero Boys" statue.
The Hero Boys were cadets at a military college.
One of the times that Guadalajara was being invaded,
they courageously led the defense, but ultimately died in their efforts.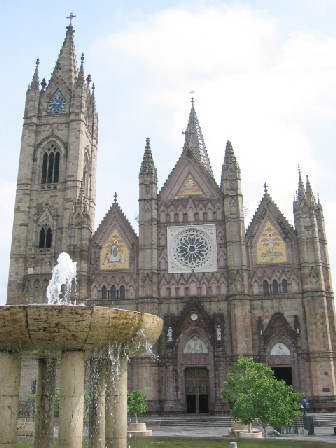 One of many beautiful churches in Guadalajara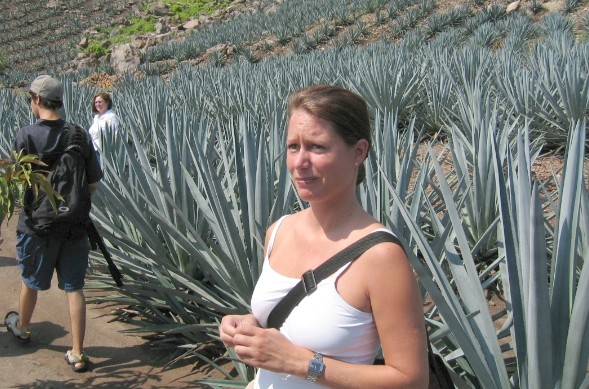 A Swedish tourist in front of blue agave fields in Tequila, Mexico.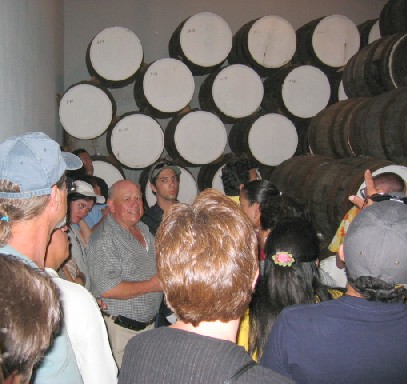 Tour of the Casa Noble tequila facility.
A primer on tequila:
There are two grades: (a) 100% Agave, and (b) mixto (mixture), typically labeled 'Gold'.
There are three ages: (i) blanco (a.k.a. silver or crystal) which is not aged,
(ii) reposado, aged 3 - 11 months, and (iii) aņejo, aged at least a year.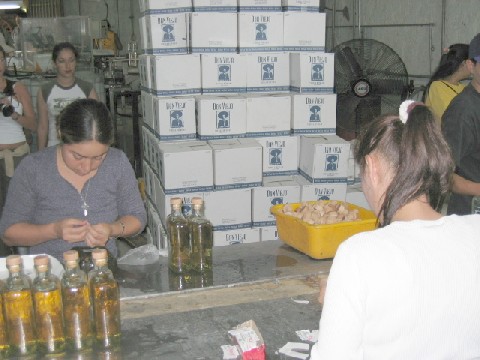 Bottles of Don Viejo tequila are (amazingly) filled by hand.
They actually use a funnel to fill the bottles, and manually put the top on and seal it.
Not a mechanical device in sight.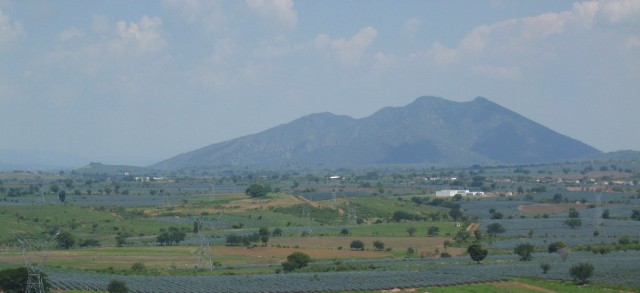 A view of the gorgeous scenery around Tequila.
Note all the blue agave fields in the foreground.

Pictures: Page 1 Page 2 Page 3 Page 4 (murals) Page 5 Page 6