Indoor and Outdoor Volleyball
Pick-up Games in Atlanta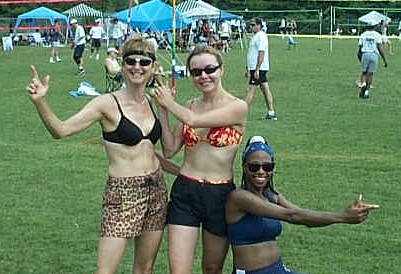 Charlie's 'Wanna Be' Angels
This page has been retired and is no longer accurate.
*** OUTDOOR VOLLEYBALL ***
The purpose of this web page is to invite you to occasional grass and/or sand volleyball pick-up games (and see indoor section below) in Atlanta, Georgia. We are meeting for fun and training. These games are not sponsored by anyone, so play at your own risk; we are not liable if you get hurt. Click for pictures of April 3, 2005, 2004, 2003 (Oct. 22, Oct. 15), 2002 (May 27 -Memorial Day, May 19), 2001 (July 18, July 11), and May 7, 2000.

Who: We get mostly "BB" and "A" level players, and play 2's, 3's, and occasional 4's. If you are new to volleyball, this is not for you: See the indoor information below.

What you should bring: Bring your net and volleyball (if you have them). Also, bring enough water or other fluids to drink. Perhaps a few snacks.

*** Outdoor Places to Play ***

Brookhaven ('Osborne') Park, 2660 Osborne Road Atlanta, Georgia 30319. Take Peachtree Road north past the Brookhaven Marta Station, turn left on Osborne St. (the first light after Peachtree goes from 3 to 2 lanes). The park is immediately on your left. (You've probably driven by it before and never noticed it, so watch carefully.) Drive down the service road and park. There is a bathroom and water fountain nearby in the park. Note: This is not the same place as the Brookhaven Boys and Girls Club, where some sand courts are. Also, this park may have vagrants around, so keep an eye on your stuff, and keep it safe around the bathrooms. Dekalb Parks & Recreation 404-371-2631; "alcoholic beverages are not permitted". Please let me know if you find the bathrooms locked, and I'll get them unlocked.

Piedmont Park:
(a) We normally meet on the 10th Street fields (Oak Hill). Park on 10th Street for these fields. Walk over the hill towards the lake - we play next to the inner road.
(b) Alternatively, you can play at the soccer fields near 14th and Piedmont (west side of the park), north of Willy's Mexicana Grill. Address of Willy's: 1071 Piedmont Road, Atlanta, GA 30309. You can park on 12th or 13th near Piedmont. Another good parking option is 15th street, west of Piedmont Road, but you must approach it going east from Peachtree (from Colony Square).
(c) The newly opened Meadow (SE corner of the park) does not allow cleats or volleyball.

Blackburn Park (770-451-1061 for the Tennis Center) at 3501 Ashford-Dunwoody Road just north of Johnson Ferry Road, and just south of Marist High School. The area is just inside loop 285 (exit 29), and just east of GA 400. Click for a quick map. Click for a nice map. We will meet at the -far north- end of the park (across Ashford-Dunwoody from the YMCA), near the covered picnic area and softball diamond. There are drinking fountains, a port-a-pottie (not yet in 2002), and a water spigot there. Bathrooms are also available in the Tennis Center.

Tolleson Park in Smyrna. Directions: From 285 in NW Atlanta, take South Cobb Drive exit and go NW (outside the perimeter). Take a right on McCauley Road. If you get to Concord Road, you went too far. Tolleson has a sand court, and room for many grass courts. There are bathrooms and water in the building nearby.

Jones Bridge Park: We occasionally meet there on weekends, or with the Southern Fried Volleyball Club.

Bogan Park Community Center, (770) 614-2060, 2723 N. Bogan Rd, Buford, GA 30519, is in North Gwinnett (almost Hall co.). They have lights. (Yahoo map)

*** INDOOR VOLLEYBALL ***

Second Ponce de Leon Baptist Church: 2715 Peachtree Rd NE, Atlanta, GA 30305, 404-266-8111. As of March 2005, Thursday night pick-up, open coed from 7-10 pm. The Church is located in south Buckhead at the corner of Peachtree and Wesley rds. next to Christ The King Catholic Church. Two courts available; all levels welcome.

Suwanee Sports Academy: Sundays from 6:00-10:00pm (Jan 2004). Fee $5.00, walk-in; 5 courts. As of January 2004, there is no Wednesday open play. Christy Howard at 770-614-6686 x106 or .

Gwinnett Sports Center: 4285 Brogdon Exchange, Suwanee, GA 30024. Many leagues, many levels, many nights. For more information call 678-714-7454 or email info@gscfun.com.

Clairmont Presbyterian Church (map): 1994 Clairmont Road Decatur, GA 30033 404-634-3355 (at the corner of North Druid Hills and Clairmont): As of January 2004, $3 open play on Wednesday nights has been suspended, perhaps until summer 2004. Roughly 'BB' level play. League play on Mondays from January 2004. Questions: Julie Davis at or 404-634-3815.

Concourse Athletic Club (King/Queen buildings at 400 and 285) is having open play for Indoor volleyball on Sundays between 2 pm and 5 pm (as of November 2005). Please contact Bill Browning at or 678-357-9402 for more information.

Dunwoody United Methodist Church (Mt. Vernon and Chamblee Dunwoody): As of December 2003, plays every Wednesday from 9 to 11PM for $3. The gym was opened May 2001 after renovation, and has two nets. 'B' level play.

Kennesaw United Methodist Church (1801 Ben King Road): For singles, age 35 and older. Experienced beginners and some intermediates. Wednesdays at 7:30 pm for $1. The best way to the church from I-75 North is to get off at Chastain, turn left, and go past Kennesaw State (which is on the right). The next light will be at Big Shanty. Turn right, then go through 4-way stop. The road is now called Ben King and the church is about the fourth church on the left. Play at the fellowship hall: the big building on left back side of the church. Brian at (October 2003)

Cherokee County Recreation Center: Wednesdays from 6:30 to 9:30; $2 per person; two nets. Open play is through September 5, 2001 (The regular league season starts September 12th.) 7545 N Main Street, Woodstock, Ga 30188; 770-924-7768. (source: Kelly R.)

Alpharetta Community Center will have a Thursday league in September 2001; $240/team. 175 Roswell Street, 678-297-6150. As of January 2004, may have free Wednesday night open play.

Hammond Park Gym (Hammond & Glenridge in Sandy Springs) 2005 Spring Volleyball League: Wednesday "Men & Women Power", Thursday: "Coed Power" League. Entry deadline in Monday, March 21, 2005; play begins Monday March 28, 2005. Team cost is $280. Contact Chris Brown at 404-597-6095.

St. James UMC: Directions: From Lenox Mall, take Peachtree north, just past Phipps Plaza and Roswell Rd., Turn left at Peachtree-Dunwoody (across from the BP station). The church is located 1.4 miles north on Peachtree-Dunwoody Rd., on the left.

Paulding County / Mt. Tabor Park: Volleyball and Walleyball league. Contact Daphne Waller at . (May 2003)

Sandy Plains Baptist Church: Open play coed at 7pm every Monday night. Level is mixed and anyone is welcome. Church is in NE Cobb County on Sandy Plains at Post Oak Tritt Road near Big Lots and McDonalds. Tim 770-630-2757. (January 2005)

As of May 2001, we are no longer playing at Peachtree Presbyterian Church in Buckhead (3434 Roswell Road NW, Atlanta, GA 30305, 404-842-5800).

*** MORE INFO & LINKS ***
For more additional information about volleyball in Atlanta (including tournaments),
see the Southern Fried Volleyball Club (www.sfvc.org and email list),
Volleyball Atlanta (www.volleyballatlanta.org and email list),
and AtlantaVolleyball.net (schedule). Also, Vertical One.